Right now, the financial market seems to only have inflation on their minds. However, there are other parameters that are just as important.
Investment bank J.P. Morgan is sounding the alarm for the actions of the largest central banks (G5).
Decreased money supply
In recent years, the swelling balance sheets of central banks have been perhaps the best driver of the stock market. The injection of liquidity has pushed up prices for most assets, especially stocks and real estate. But now, the focus is on decreasing balance sheets, which means reduced liquidity and money supply.
Shrinking balance sheets
J.P. Morgan has analyzed how the five largest central banks have announced that they will reduce their balance sheets this year and put it in relation to economic growth (see chart below).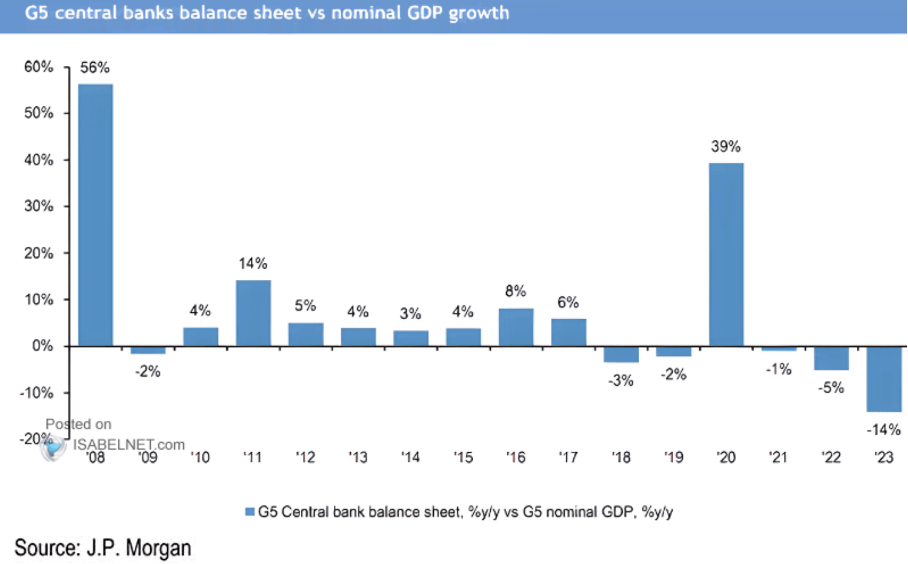 The combination of shrinking balance sheets and lower economic growth creates an unpleasant cocktail overall.
Overall, J.P. Morgan's analysis gives us the worst climate for the stock market in 25 years. Last year was also a minus, but this year it is three times worse.
The salvation for the financial market is rapidly decreasing inflation with accompanying interest rate cuts. Or perhaps the end of the war. Otherwise, it is difficult to see how the stock market and financial market can handle this.